14 May 2018
10-year anniversary of The Green Process Awards in Polpharma !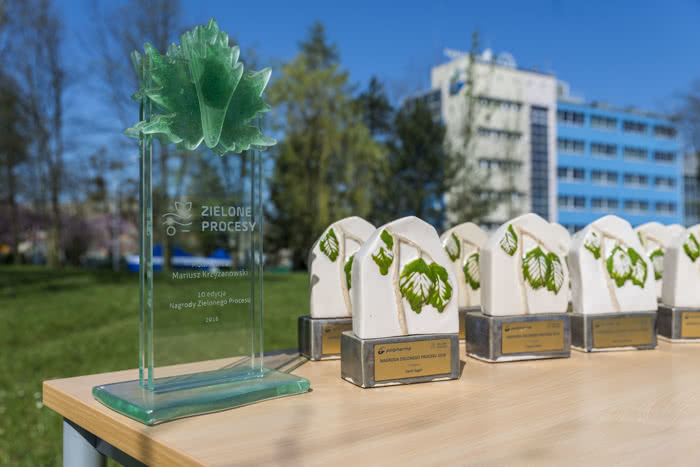 We are a manufacturing company, and all manufacturing processes have an impact on the environment and environmental resources. Therefore, we continuously improve process efficiency, reasonably manage our energy, water consumption and pollutant emissions, additionally ensure safe use of chemicals.
We are continuously improving and developing our environmental management systems.
Our activities to ensure sustainable development are based on the Integrated Occupational Health and Safety and Environment Management System conforming to ISO 14001 (environmental management), OHSAS 18001 and PN-N-18001 (OHS management), and PN-EN 17025 (quality management for testing laboratories) standards. The policies implemented within the system include the Environmental Sustainability Policy, the Occupational Health and Safety Policy and the Laboratory Management Policy.
Moreover, we recognize and reward employees who show exceptional care for the environment.
This year we celebrate 10-year anniversary of The Green Process Awards, the initiative which collects people's ideas to improve efficiency of our production processes.
Each year, our employees submit numbers of projects which are then assessed based on pre-defined criteria by the company's key representatives. The programme offers benefits to the environment, as well as Polpharma Group.
Thanks to our employees' suggestions, we began using recycled cardboard packaging and materials recovered from composite packaging, and eliminated dangerous solvents from many manufacturing processes.
This year, the competition was strong! We are glad to announce that two initiatives took first place!
At API Plant, a modification of one of our API production process was introduced in relation to the basic patent. Thanks to the initiative, the amount of solvents used was significantly reduced and emissions of volatile organic compounds were reduced.
In terms of infrastructure, optimization of the compressed air station has been made.
After 2 months of operation of the new system, a reduction in electricity by 79 MWh was achieved, which is about 43% of the total electricity consumption for compressed air in the Dry Form Production Department.