9 April 2019
Sustainable Supply Chain at Polpharma
Guided by that sense of responsibility, Polpharma is determined to ensure that its suppliers represent the same highest standard of operations and processes. 
Therefore, in 2014, Polpharma Group decided to focus on a Sustainable Supply Chain (SSC) as one of the pillars of its corporate social responsibility (CSR) strategy, thereby becoming one of Central-Eastern Europe's leaders in this area.
Our three-year strategy was implemented in four areas
commitment and education of employees of purchasing department
educational activities directed to suppliers
impact and real change in the supply chain
internal system solution
The strategy built in this way allowed us to make a real change in the purchasing processes, and at the same time encouraged suppliers to become more involved in raising ethical and environmental standards.
What is a Sustainable Supply Chain in the Polpharma Group?
Polpharma Group has adopted a recognised definition of Sustainable Supply Chain (SSC), which is:
the operation of all entities within the entire supply chain in accordance with corporate social responsibility principles;
joint efforts aimed at minimising the adverse social and environmental impact at every stage of production, distribution and consumption of products and services.
SSC has initiated a multi-level change process in the Polpharma Group. In 2015, we started 'from scratch', since knowledge about how to conduct such groundbreaking projects in supply chains was almost inaccessible in the Polish market.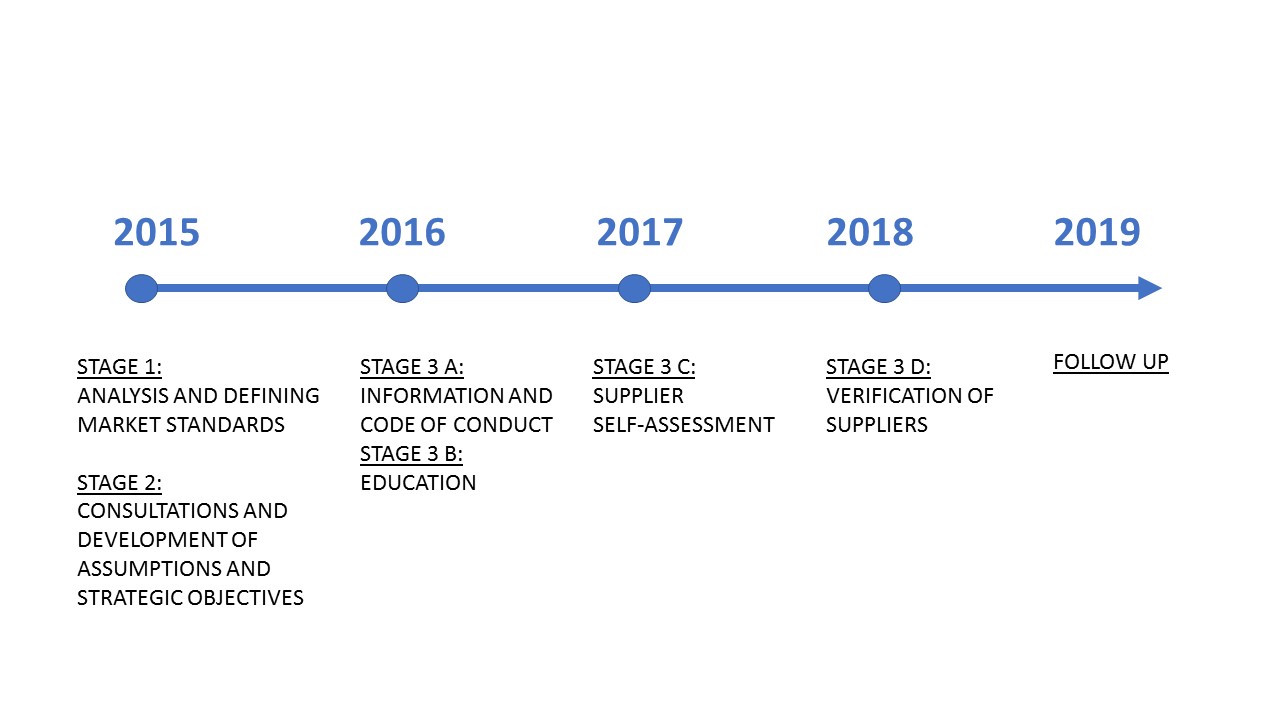 To implement the strategy, we needed to have in-depth consultations, build new structures within the organisation and reformulate worn-out business relations models.
From the beginning, the project was assigned a strategic meaning, and a wide range of employees was engaged in its planning and implementation.
The project team was comprised coordinators from all Purchasing Divisions, experts in quality, occupational safety and health, environment, ethics, and HR areas, as well as lawyers.
The Sustainable Supply Chain strategy has enabled Polpharma Group to develop the right structure, tools, and mechanisms for responsible supply chain management.
 
The change brought about by the implementation of the SSC strategy is also of wider significance. The adoption of the SSC strategy has contributed to reinforcing good partnership-based relations with suppliers, and also to designing new actions for sustainable development throughout the entire life cycle of Polpharma Group products.
Cooperation with Suppliers related to important values for Polpharma Group
Polpharma Group products are synonymous with the highest quality and safety. The trust that our patients place in us is our commitment to act ethically and responsibly at every stage of the manufacture of medicines.
Guided by that sense of responsibility, Polpharma is determined to ensure that its suppliers represent the same highest standard of operations and processes. Therefore, Polpharma Group builds its supply chain with partners who meet the Group's stringent quality standards, confirmed by current audit results.
As we build long-term relations with suppliers, we emphasise a sense of shared responsibility, not only for the final product, but also for the highest ethical standards and harmonious development of all entities who participate in the production process, with stakeholders' needs in mind.
The most important link that makes cooperation possible, and guarantees the highest standards within the entire Polpharma supply chain, is the Polpharma Group Supplier Code of Conduct.
Polpharma Group Supplier Code of Conduct
The Code was developed in 2014 with a far-reaching consensus and participation of employees across various functions and departments, as well as key supplier representatives.
The provisions of the Code take into account the Polpharma Group values and standards recognised by the international community. The Code specifies what Polpharma Group expects from its suppliers with regard to key areas.
Areas included in our Code of Conduct
1.    Management and ethics
2.    Conditions of employment and employer rights
3.    Occupational health and safety
4.    Product quality and safety
5.    Human and animal research
6.    Environmental impact
To read full : Sustainable Supply Chain Strategy in the POLPHARMA Group – IMPLEMENTATION REPORT 2015-2018 ->  ask our Team: salesb2b@polpharma.com