CMO
Polpharma B2B
Polpharma Group
CMO is a part of Polpharma B2B Unit.
We offer customized contract manufacturing services with full analytical support in our European cGMP-compliant production plants. We have broad experience in production of medicinal products (Rx and OTC), dietary supplements, medical devices and cosmetics.
Quality, Stability,
Reliability, Responsiveness
Quality
We care for quality at each stage
of the product development, production,
storage, distribution and sale.
All drugs and substances are manufactured in accordance with the highest standards of Good Manufacturing Practice (GMP).
Stability
We are family owned company.
For over 85 years, we have been trusted by patients, healthcare professionals and business partners alike.
Reliability
We care about every detail to provide
the best experience.
Customer-centric approach together with a skilled and experienced team, always remains the main priority in managing your project.
Responsiveness
Professional project management team.
Thanks to the high responsiveness as well as effective and transparent communication of our team, you will maintain full control over your product.
Polpharma B2B Unit, as a part of Polpharma Group, is world-class provider of high-quality products
and services with customized support as well as its international and professional sales team.
Possessing strong R&D centers we are able to provide our Partners with tailor-made solutions addressing all of their business needs. Our mission is to be trusted, modern European organization delivering high-quality and safety solutions, transparent and fast-responding to customers' needs.
B2B
CMO - Contract Manufacturing
FDFs - Finished Dosage Forms
& Licensing-out
In the B2B environment, we use our skills to build a vision and bring the best solutions to our partners. We are guided by ethical values and standards of conduct to continuously improve our organization, respond to key medical challenges, and provide space for the advancement of knowledge. Our experience and expertise are crucial for a better understanding of your needs in a strictly regulated pharma environment.
Operating in the pharmaceutical industry, we are accepting the responsibility
for human health and life. That is why the quality of our products
and the safety of patients are our main priorities:
We minimize our impact on the environment by eliminating harmful substances from manufacturing, using pollution control devices, and increasing recycling and waste recovery.
We invest in innovative technologies which enhance production efficiency, the comfort of medication delivery and the safety of our processes for both humans and the environment.

We work with science centers to improve our products and technologies.
At Polpharma Group, all our efforts are focused on delivering high-quality and affordable
medicines to as many communities as possible.
Every day we diligently cooperate with doctors, pharmacists and other healthcare professionals to better understand every stage of a patient's journey and ensure that our patients receive and stick to the most adequate treatment. Thanks to best-in-class industry talents and state-of-the-art technologies, we are able to design and deliver crucial products and solutions to address the biggest health challenges (an ageing population, chronic diseases) and healthcare system problems (increasing healthcare costs, resource shortages). Through collaboration with our partners, we explore new ways of doing business and accelerate positive changes.
Helping people
to live a healthy life
in a healthy world
Polpharma Group
overview
A leading regional (CEE and CIS) manufacturer of pharmaceuticals.
Transforming the healthcare industry in terms of advanced commercial models and the usage of AI to improve both the closeness to the HCP professionals and patients and its effectiveness.
For over 85 years, trusted by patients, healthcare professionals and business partners alike.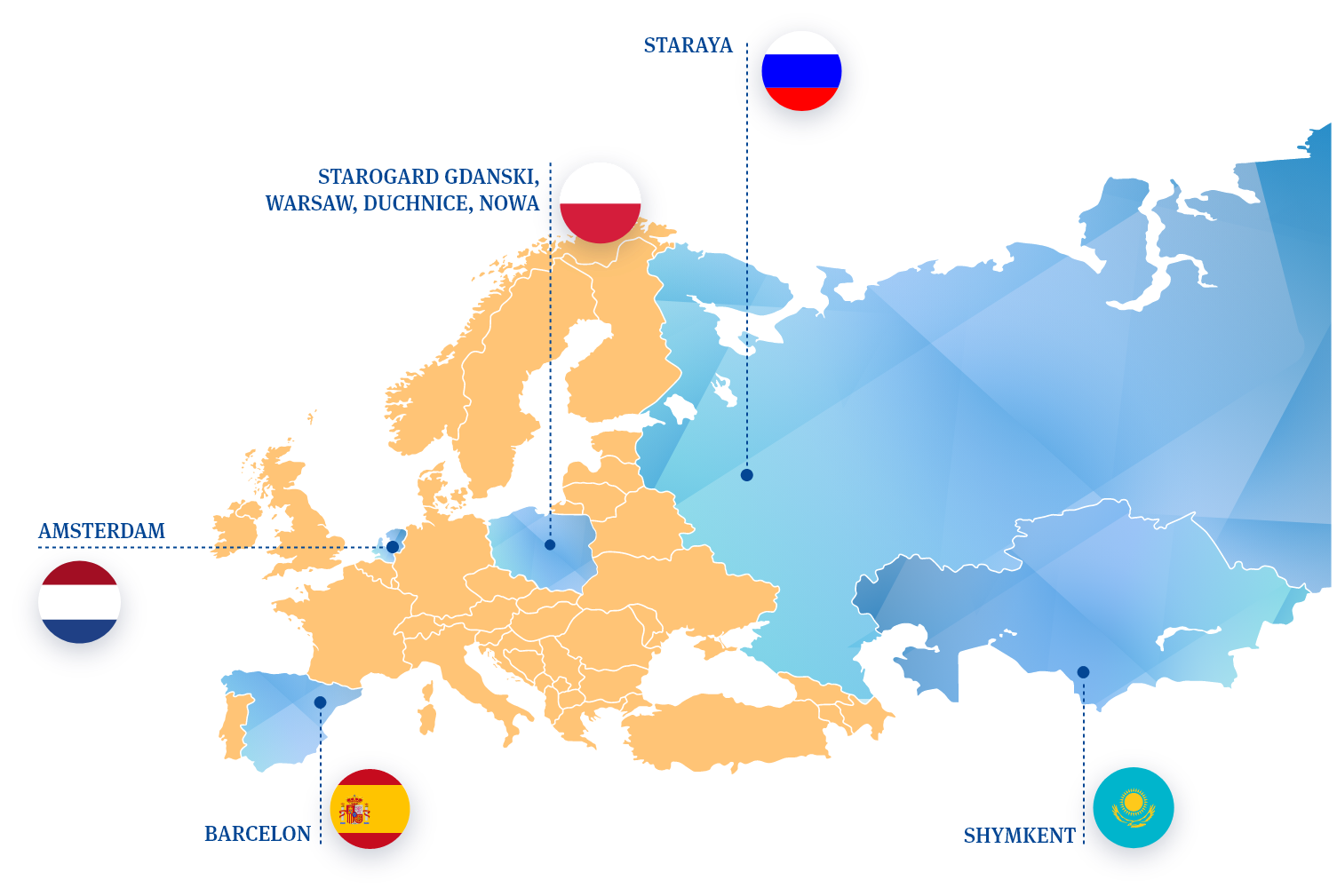 Key facts:
€964m
} if($point['title'] != "") { ?>
Revenue 2021
840
} if($point['title'] != "") { ?>
Products in sales
200
} if($point['title'] != "") { ?>
Products in development
5
} if($point['title'] != "") { ?>
R&D Centers
Warsaw, Sieradz, Starogard Gdanski, Shymkent, Staraya Kupavna
7
} if($point['title'] != "") { ?>
Manufacturing sites
In Poland,
Russia & Kazachstan


>7,000
} if($point['title'] != "") { ?>
Employees