We support World Health Day !
Polpharma strives for better universal health coverage!
7 April – is the World Health Day. The Day brings the focus  to the importance of equity in a health-care services.
Every year World Health Organization (WHO) aims to educate people about the world health care.
Key to achieving the universal health coverage is ensuring that everyone can obtain the care they need, when they need it, right in the heart of the community.
Progress is being made in all regions of the world – but still many people have no access to the health care.
The role of the pharmaceutical industry is make the health care more affordable and accessible.
At Polpharma, we provide patients with access to cutting edge therapies at affordable prices, develop advanced generics, invest in innovative technologies which enhance production efficiency. We take care about the comfort of medication delivery and safety of our processes for humans and the environment. Our aim to educate patients by running multiple campaign, and help educate doctors and pharmacists about latest trends.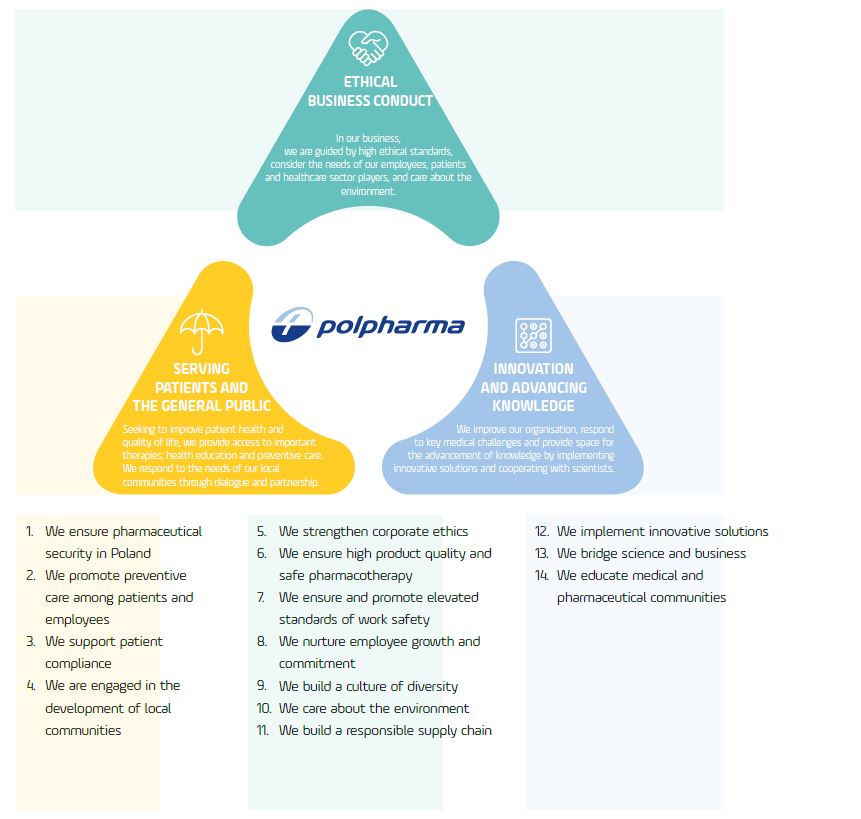 As a Polpharma Group, we undertook multiple initiatives to raise patient awareness of the importance of adhering to therapeutic recommendations and the rules of safe self-medication.
Initiatives dedicated to the medical community and students:
»» Incorporation of patient compliance into the educational programme "Pharma Knowledge" for medical and pharmacy students
»» Publication of a textbook by the Polpharma Scientific Foundation for medical students and physicians  Patient Non-Compliance: From Root Causes to Practical Solutions. Being the first publication of its kind in Poland, the textbook contains a scientific description of patient noncompliance and its impact on treatment efficacy, as well as practical ways to improve the current situation.
»» Educational campaign "Go See a Doctor!" addressed to medical students promotes a good patient-doctor relationship and its importance for improving patient compliance.
 
Initiatives addressed to patients:
»» Leaflets helping patients to take their medications regularly
»» Applications supporting patient treatment, e.g. medication reminders
»» Enhancement of pharmaceutical forms to improve comfort of use and ensure consistent adherence and efficacy of treatment (e.g. tablets containing two active ingredients, better-tasting medicines for children in a form adapted to a child's needs, or tablets to use once a month or once every few months).
We are committed to the development of the medical and pharmaceutical communities in a variety of ways, including conferences'  organization, workshops and debates which offer the attendees (doctors, pharmacists, scientists, and students) an opportunity to enhance their knowledge.
We educate future doctors and pharmacists by giving students the opportunity to compare the knowledge gained at university with the practice in the pharmaceutical industry through the Pharma Knowledge programme which has been running since 2007.
Polpharma is the only pharmaceutical company in Poland to provide physicians with such a wide extent of opportunities to improve their professional skills. Workshops and lectures are run by top experts in Polish medicine.
For many years, we have been organizing scientific conferences as a part of the European Education Programme (EPE). The EPE events have become an important date in the calendar for many Polish doctors, including internal medicine specialists, ophthalmologists, gynecologists, and dermatologists among others.
We believe, that  conferences are an excellent form of education and a key element of our cooperation with doctors. The participants can choose the lectures and workshops they wish to attend. With each conference, we have managed to prove that we are a partner of the medical community that responds to the community's key educational needs.
It has already become a tradition that EPE conferences for ophthalmologists include a live transmission of cutting-edge surgeries to the conference room. The participants always commend our interdisciplinary approach and efforts to show the practical side of the topics discussed at the conference.

We always seek to actively participate in the activities of various organizations and associations to share our knowledge and experience, and to  maximize the social impacts of our activities through joint initiatives.